Why RFID Animal Identification and Monitoring Matters for Your Farm Business?
Due to public health concerns and other factors, animal farm owners, companies, and governments have begun to develop policies and implemented numerous steps to improve animal management. Using technology, RFID animal identification and monitoring is becoming one of the most important of these methods.
In line with these recent trends, you can also further the management of your farm beyond your daily work hours using RFID-based devices to initiate your RFID animal identification procedures. You ask why?
Wouldn't it be good to know how many cattle or small animals you have on your farm without having to count them one by one?
Or do not you like to keep track of which cattle or sheep were fed, how much milk they produced, which diseases they have, which treatments and medications they received, and, as a result, to have unique productivity graphs for each animal with daily, monthly, or annual reports?
RFID cattle tags especially boost efficiency in animal husbandry on large scales. RFID animal ear tag carriers are more functional than traditional barcode-shaped animal carriers. These cattle tags are installed on the livestock's ears, and through this, a connection is formed between the animal body and the RFID reader. When these RFID ear tags are inserted, RFID animal identification and tracking can become.
Why RFID animal identification matter in livestock breeding?
Goodwin RFID cattle tags benefit both animal and farm owners, buyers, veterinary services and record management, and they come as pig ear tags, cow ear tags, horse ear tags and sheep ear tags. All steps were taken during RFID animal tracking align with ISO 11784 animal tracking standard and ISO 11785 animal tracking electrical standard.
Animal husbandry information management: Key information about the animal, such as the owner's name, features, immunology, vaccine type, batch number, vaccination method, vaccination dosage, can be stored in RFID cattle tags.
Animal safety: Livestock asset tracking and safety can be achieved through RFID animal identification technology against suspicious activities and theft.
Feeding Automation:RFID animal identification technology also enables farm owners or workers to track animals' food intake and automation of feed machines to dispense certain amounts at certain times.
Milk Production Monitoring:RFID cattle tags also enable farm owners to track milk production ratios of cattle daily and even hourly.
Animal Farming Supply and Distribution Chain: The RFID animal identification system can track the whole transportation process, identify and watch livestock status in real-time, and offer information on disinfection, inspections, and quarantine, as well as transportation from farmer to the seller, ensuring traceability from the farmer to the end customer.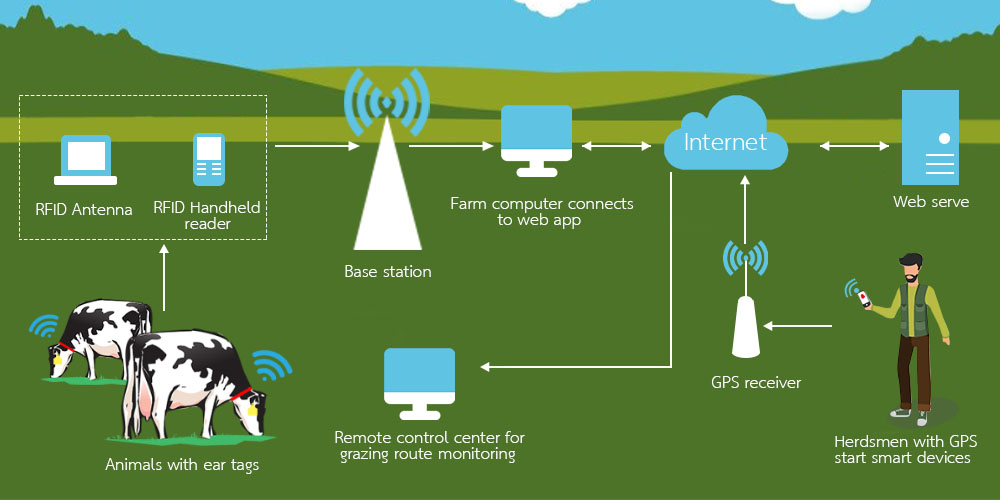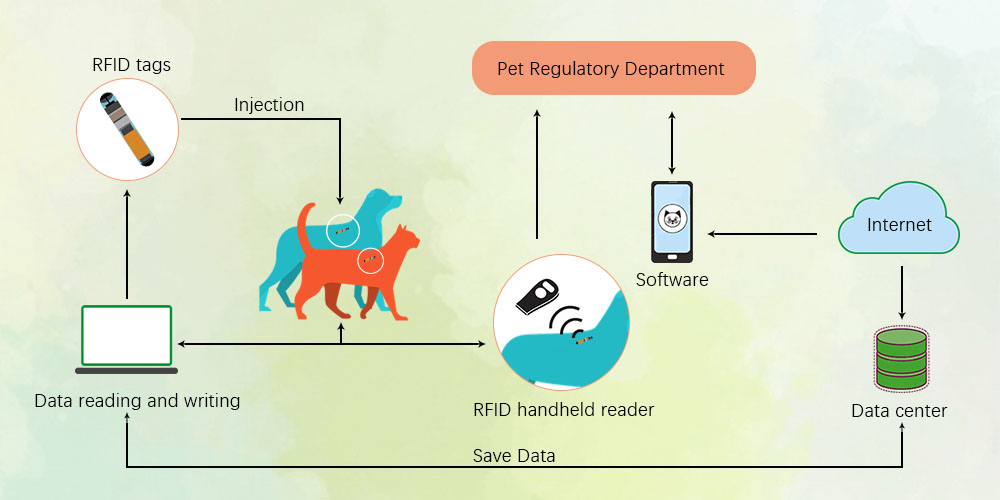 RFID Animal Identification Best Practices
– USDA Legislation USA: The US Department of Agriculture yet again proposed in July 2020 to adopt RFID as the official ear tag for use in interstate cattle transportation, and the department has opted to pursue this proposal via the rulemaking process. And this negotiation goes back for many years.
– GGVB in India: Gujarat, a province in Western India, is implementing an RFID-enabled cattle tracking program. The Gauseva and Gauchar Vikas Board (GGVB) is working to build a high-tech dairy farming system. Each RFID tag includes a 12-digit identifying number, similar to the Aadhaar national citizen card in India. It is pierced in the animal's ear or inserted in the skin. Details such as the animal's birth date, race, milk supply, and owner's name can be written on the tag after being affixed.
-Vermont State Law: Regardless of the cause for transportation or term, the Vermont Animal Identification Rule mandates that all livestock moved within the state be formally identified right before leaving the land of origin. For intrastate and interstate transfer of cattle and poultry, official identification is essential. Livestock owners in Vermont often employ metal ear tags and 840 radio-frequency identification (RFID) tags to achieve this goal.
.